The Beavercreek Athletic Boosters would like to extend their condolences to the Roddy family.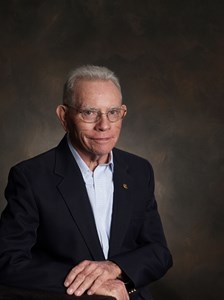 Vollie Roddy, Jr. Age 89, of Beavercreek, Ohio passed away peacefully on September 15. Vollie was born July 27, 1932, near Hartsville, Tennessee, and graduated from Trousdale County High School in 1952. He began college on a football scholarship at the University of Georgia before being drafted into the Army during the Korean conflict. He served in the Army and Army Reserve from 1953 to 1961. He graduated from Middle Tennessee State University in Murfreesboro, Tennessee where he played baseball and received his Bachelor's Degree in education. He proceeded to obtain his Master's Degree from Ball State University in Muncie, Indiana.

Vollie taught at Beavercreek High School from 1961 until his retirement in 1988. Many will remember him as their history or driver's education teacher, but most will picture him as Coach Roddy who led the Beavercreek Baseball, Football, and then Golf teams for decades. Vollie was inducted into the Beavercreek Athletic Hall of Fame in 2001 and the Greater Miami Valley Coaches Hall of Fame. He played golf and worked at WGC and volunteered in numerous ways. He qualified for the Senior Olympics in golf in 1994 and 1996.

Vollie was a member of First Reformed Church in Xenia and, later, Patterson Park Church in Beavercreek.

A devoted husband and father who loved family, teaching, coaching, golfing with friends, and a good practical joke.

Survived by his loving wife, Dalene; sister Carolyn; children, Ron, Jon, and Suzanne; grandchildren, Alexa, Jordan, Taylor, Kyle, Kennedy, and Jackson.

The family will hold a private service Thursday, September 30, 2021, to be followed, at a later date to be announced, by a public visitation and Celebration of Life.

In lieu of flowers, the family wishes to honor Vollie's life and work with donations to the Beavercreek Athletic Boosters, Vollie Roddy Baseball Press Box fund. Please make checks payable to the Beavercreek Athletic Boosters Club and mail them to 2660 Dayton-Xenia Rd. Beavercreek, OH 45434. We are working on a link to pay online and will post as soon as we have it finalized.
The Beavercreek Athletic Boosters is a supportive organization for the high school athletic programs. We work to provide improvement in equipment, facilities, and support for the student-athletes of Beavercreek High School.
Athletic Booster Club Meetings are held on the first Monday of each month at BHS at 7 pm.
Athletic Boosters Twitter:
Membership Form