State-Funded ACT Test (for Juniors)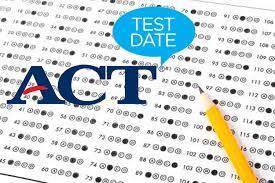 Scores from the February 23rd Test Date have been released. Students may see their scores using their MyACT account they were instructed to create using their student codes. The deadline for creating their account was February 25th. All students were given paper directions, a gray booklet of directions, directions via email, directions in advisory, and parents were emailed directions to assist students with creating this account. If your student did not create their account, but still has the paperwork, they may attempt to create their account now but at this point they will have to pay to have their scores sent to colleges and universities. Please see "Tips for Creating a MyACT Account" below.
State law requires districts and community schools to administer the state-funded ACT or SAT to all grade 11 students in the spring of the school year. Beavercreek High School will give the state-funded ACT to Juniors on February 23, 2021. Juniors have received multiple communications via their gocreek email addresses at this point. If your student hasn't heard information about the ACT Test, please have them check their gocreek email address.
All Juniors that attend BHS (including those who are completing their work via Edmentum) will be registered to take the ACT test in February at no cost. Registration is taken care of by the school - students and parents do not need to register online. Standard time testing will begin at 8:15 am and should conclude by 12:30 pm.
Students in grades 9, 10, and 12 will have a Remote Learning Day on February 23, 2021 so all staff can be used as proctors and all rooms in the buildings can be utilized for safe, socially distanced, secure testing environments for the ACT.
Beavercreek High School will also be hosting an ACT Prep Seminar, presented by Next Level Prep. Students may attend virtually on Monday, February 15, 2021 or in-person on Tuesday, February 16th, 2021. Next Level Prep has provided this service to BHS students in the past and we have heard many positive reviews from the students that attended the seminar. Additional information and registration links can be found in the pdf attached below.
Students must complete pre-test information prior to testing day. A good portion of our juniors will complete this during an Extended AVP (advisory period) on Wednesday, February 10th. Virtual and CCP students (without an AVP) can come to school during the following days/times to complete their pre-test information: Wed. 2/10 @ 9:30 am or 1:15 pm, Thurs 2/11 @ 10:30 am, or Fri 2/12 @ 1:15 pm. If a student has a conflict with those times, please contact Laura Bailey in the Main Office for assistance.
If you have any questions about the February 23rd administration of the ACT Test, please contact Laura Bailey (BHS Assistant Principal) at 937-429-7547 or laura.bailey@gocreek.org.
Practice tests are available to students at the following links
**Students will not be taking the Writing portion of the ACT on 2/23/2021 but they may take the ACT at another testing location and can take the Writing portion there.
If your student was absent on the 2/23/21 testing day, the date for make-up testing is March 9, 2021. Your student will be contacted to see if they would like to participate in make-up testing; they will be responsible for any work missed on that date. If they are an in-person student, they will return to class at the conclusion of testing.