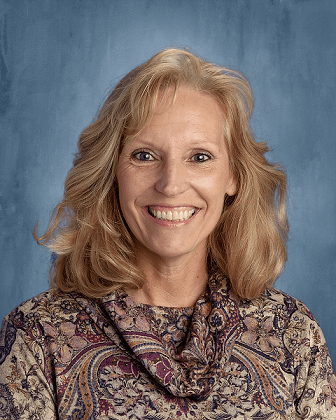 Welcome to Trebein Elementary, home of the Timberwolves! Our 840 incredible students and enthusiastic staff have created an environment where taking care of one another and striving for academic excellence are the norm. As you walk the hallways at Trebein, not only will you take note of our beautiful and energy efficient building, but you will be truly impressed with the many hands-on activities, small group learning experiences, and rigorous content being taught by caring professionals.You will also notice that our students are some of the most polite and well-behaved children around.
I have lived in the Dayton area my whole life. I loved growing up in Kettering and enjoy the lifelong friends I made there. I graduated from Fairmont East High School in 1983. I went on to Miami University, where I earned a B.S. in Business with a major in Finance. I thought I wanted to be a stock broker. (Although, the fact that I tutored at the elementary school in Oxford just "for fun" should have been a clue to myself as to what I should have been studying.) Shortly after graduation, I married my high school sweetheart, Ty. I quickly realized that the world of Finance was not for me, and I decided to go back to school for a Master's Degree. By this time I had figured out that Education was more than something "fun" for me – it was my passion. I attended The University of Dayton while raising two little ones. I earned a Master's in Teaching and was hired by Beavercreek Schools to teach at Valley Elementary where I stayed for four years. I then transitioned with sixth grade to the middle school where I continued teaching sixth grade at Ankeney Middle School for five years. During this time, I worked on another Master's Degree – this time in Educational Leadership. I had the opportunity to serve Main Elementary School as a Principal Intern for one year. The following year, I was brought back to Valley Elementary School where I was the principal for nine years. This is my nineth year as Principal at Trebein Elementary School, and I absolutely love it! Having worked in public education for 25 years, I never cease to be amazed by the dedication of our staff members and the love in the hearts of our kids.
Ty and I have lived in Beavercreek for 28 years now. He retired from WPAFB where he served as an Air Reserve Technician. Our children attended Valley, Ankeney, and BHS where they both had wonderful educational experiences! Our daughter Alex is now a School Psychologist and Special Education Supervisor for Beavercreek Schools. Our son Casey is a fourth year surgical resident at Miami Valley Hospital. Ty and I have four beautiful grandchildren: June, Lennon, James, and Julian. They have stolen our hearts!
I truly look forward to coming to school each day. Working at Trebein is like a dream come true! When I am not at school, you will likely find me either out walking my dog - Ellie Mae, reading, or practicing piano. (I am a beginner student in my 50's - it's not pretty!) I also sneak over to visit my grandbabies every chance I get!
I truly feel that student success hinges on all of us working together. Please know that I value your input, and I am always happy to talk with you. Thank you for sharing your children with us!
Respectfully,
Lisa Walk