BHS STUDENTS: Looking for a way to get involved at the high school? Have an interest in writing? Consider taking Journalism I and II next year. As a member of Journalism II, you would be joining the BHS newspaper staff and helping other students keep up with important events in our school, community, and world. Applications are due by February 6th. Email Mrs. Russ if you have any questions. (
jami.russ@gocreek.org
)
https://forms.gle/KmHss414bN1JcyFs9
SENIORS: Please check the yearbook display case near the yearbook room (2025) to verify that the yearbook staff has received your senior photo. Any errors must be reported to Miss Creech no later than Friday, January 20.
Tickets for the BHS production of "A Midsummar Night's Dream" will go on sale on Wednesday 1/18 during all lunches. The in-school performance will be held on Thursday 1/26 during periods 1-3.
Next Level Prep will be offering another ACT Prep Seminar to students in grades 9-12 on Tuesday, February 7, 2023 at BHS. Registration information can be found at
https://tinyurl.com/NLPactBHS
.
All Juniors will be taking the state-funded ACT on Tuesday, February 28th, 2023 at Beavercreek High School. Students in grades 10 and 12 will not report to school on 2/28/23. Students in grade 9 will report to school for a regular school day. More information on the ACT will be sent to student and parent emails this week.
Any sophomore interested in attending the GCCC next school year should apply NOW! Applications opened on Friday 12/2 at 3:00 pm. Students must visit the GCCC website to apply and they must use their personal email (not their GoCreek email) when applying. APPLY ASAP - spots will fill up FAST!! Additional information was sent to student and parent emails last week.
Attention Seniors and Parents of Seniors: Senior pictures are due to the BHS yearbook staff no later than Friday, January 6 if you wish to be included in the senior section of the yearbook. If you had your photo taken through Easterling, that photo will be used. If you wish to use your own Senior photo, you must use a board-approved studio. See the list of approved studios on the Yearbook webpage.
ATTENTION SOPHOMORES! Your Greene County Career Center field trip form is due Friday, November 18th! No late forms will be accepted, no exceptions. Extra forms are available in the counseling office. The trip will be on Wednesday, November 30th.
Our 1st Semester Exam Schedule can be found under the BHS Menu > Parent & Student Resources > 1st Semester Exam Schedule (December 2022).
We hope our students and staff celebrate U Matter week brought to the BHS community by our Peer Listening / Hope Squad members. There will be messages shared daily in AVP classes and activities / Spirit Week themes for students to enjoy! "You, as a person, matter unconditionally, and you, as a person, matter to someone else."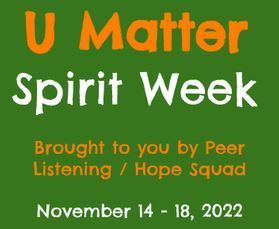 Travel is so much more than just planes and trains! Your child will gain new perspectives, develop a sense of independence, and build skills for the future through this experience. Don't forget to RSVP for the Beavercreek Virtual Travel Night on Thursday, October 27th at 6:30pm.
https://www.surveymonkey.com/r/Beavercreek24
Kona Ice returns to BHS on Tuesday, October 18th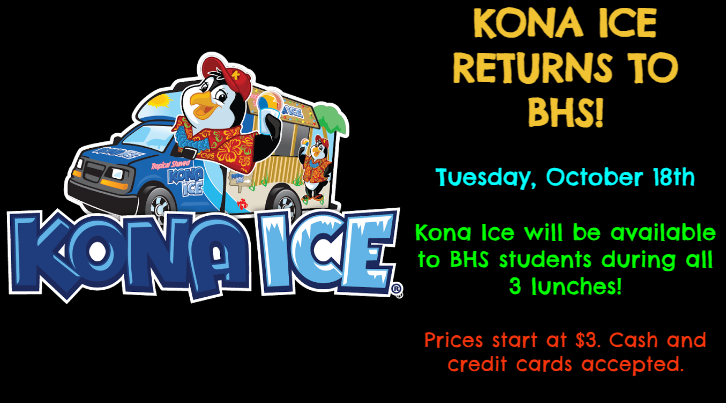 Just a reminder that Wednesday 9/28/22 will be the last day to purchase Homecoming Dance tickets on Ticket Spicket. Students should follow the directions and use the individual code they received via their school email to purchase their ticket to the dance on Saturday 10/1.
ATTENTION PARENTS / CAREGIVERS OF SENIORS!! BHS will host a senior Parent Information Session that will be held on Tuesday, September 13th at 6:00 pm in the BHS Auditorium. From 6:00-7:00 we will be discussing the college application process, senior year focus, etc. Starting at 7:00, we will be discussing college financial aid. Even though it is geared more toward parents, students are more than welcome to attend as well. Hope to see you there!!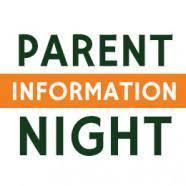 ​Auditions for the BHS Theatre Department's fall play "Arsenic and Old Lace" will take place Tuesday and Wednesday August 23 and 24 from 3-5 in the BHS auditorium. You only need to attend one of the 2 days of auditions. Callbacks will be Friday August 26 from 3-5. Here's the link to the audition form​ (
https://bit.ly/22auditionform
) and character descriptions (
https://bit.ly/22characters)​
. Email Mr. Kochensparger if you have questions.
The OneView portal is open!! Parents MUST complete OneView EVERY school year which includes your student's demographic info, EMA, and agreements. Your student's OneView MUST be complete for them to receive their Chromebook at the beginning of the year on Aug. 15th or 16th.
Mark your calendars! Join us at the BHS Open House and Club Fair on August 11th from 3:45 -5:45 pm. Parents and students can walk schedules, meet teachers and staff. We're looking forward to the 2022-2023 school year!