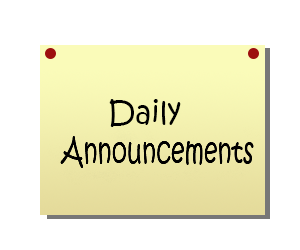 Are you creative? Do you like to write or take photographs? Is computer design one of your interests? If so, then yearbook is the place to be.


Applications for the 2024 yearbook staff are now available. Pick one up in the main office, from Miss Creech, or download one from the yearbook page on the BHS website.


Completed forms are due back to Miss Creech by Friday, February 10. Don't miss out on this opportunity to be part of an award-winning staff. Apply today!
Competitive esports has officially started. We are still looking for substitute players for Fortnite, Valorant, Overwatch, Rocket League and League of Legends. If you play any of these games and want to possible compete see Mrs. Stamper in 2055 or Mrs. Kovar in 2056. There will be open sport days if you just want to come in and play as well as come cheer in on teams. Weekly schedules will be posted in our new " Esports DAM" located in the library. Come check us out!
Looking for a way to get involved at the high school? Have an interest in writing? Consider taking Journalism I and II next year. As a member of Journalism II, you would be joining the BHS newspaper staff and helping other students keep up with important events in our school, community, and world. Applications are due by February 6th. Email Mrs. Russ if you have any questions.
Hey Beavers, it's that time of year again. The Golden Wrench Dodgeball tournament is returning for another year. The tournament will take place on February 16th in the BHS Field House from 6 pm to 9 pm. The cost is $40 per team, with teams of 6-8 people. Your team can drop your money off in a SEALED ENVELOPE WITH YOUR TEAM CAPTAINS NAME ON IT in the main office anytime during the school day. Your team name has to be approved, if you turn in your team information late, your team name will be given to you, not chosen. So sign up now before it's too late!
The Encore Players, consisting of current and retired faculty and staff will present "The Wizard of Oz: The Musical" Friday and Saturday night at 7:30 in the BHS auditorium. Admission is free with donations accepted for the American Cancer Society.
There will be a brief Baseball tryout meeting, Thursday at 4p in the Athletic Lobby. Those planning on trying out in February should attend
Art Club meets today, Thursday, Feb. 2nd in room 1173 after school until 4:00. We will be starting our community service project. All are welcome. See Mrs. Broyles for any questions.
ASL Club will meet on Monday, February 6th from 3:15-3:45 pm in room 0114 in the basement. Any student

interested in learning sign language is welcome to join. We look forward to seeing you there!