Coronavirus Family Information
People with COVID-19 have had a wide range of symptoms reported – ranging from mild symptoms to severe illness. Symptoms may appear 2-14 days after exposure to the virus. People with these symptoms may have COVID-19.
Fever or chills

Cough

Shortness of breath or difficulty breathing

Fatigue

Muscle or body aches

Headache

New loss of taste or smell

Sore throat

Congestion or runny nose

Nausea or vomiting

Diarrhea
This list does not include all possible symptoms and will be updated as more is learned about COVID-19.
Daily Health Screening of Students
The Beavercreek City School District requires that parents assess students prior to coming to school each day in an effort to help prevent the Coronavirus from entering the school system. Parents should keep symptomatic students at home and contact your school nurse. A student with a fever of 100.4 F or over should stay home without exception.
A student who has the COVID-19 symptoms described below should stay home from school and should see a doctor/primary care provider to be assessed for COVID-19:
Any of the following symptoms: cough, shortness of breath, or difficulty breathing

OR

● Two of the following symptoms: fever (measured or subjective), chills, rigors, myalgia, headache, sore

throat, new loss of taste or smell, gastro-intestinal issues (nausea/vomiting or diarrhea)

OR

● Any of the following symptoms: cough, shortness of breath, or difficulty breathing, fever (measured or

subjective), chills, rigors, myalgia, headache, sore throat, new loss of taste or smell, GI Issues (nausea and

vomiting or diarrhea) AND an epidemiological link to a case of COVID -19
Students That Do Not Feel Well
If your student has any new or unexplained* symptoms of COVID, including fever, congestion, cough, loss of smell or taste, fatigue, headache, muscle aches, please keep him home, call the school to let them know, and contact your doctor. If you or your child's doctor decide to have a COVID test, please keep your child home while waiting on the results. If a student has a documented chronic condition that accounts for symptoms, they are not considered "new/unexplained."
Symptomatic Students in School
Students displaying symptoms during the school day will be referred to the school nurse. If it is determined the symptoms are common to COVID-19 parents will be contacted and students will be dismissed from school.
My Child is on Quarantine, What About My Other Children?
Quarantine is used if your child has been exposed to someone who tests positive for COVID. If your child is quarantined due an exposure at school, your other children do not need to quarantine. If your child is quarantined due to an exposure away from school, any child that was also exposed needs to quarantine.
If You Have COVID-19 or Quarantined
Stay At Home Except to Get Medical Care
Stay home. Most people with COVID-19 have mild illness and can recover at home without medical care. Do not leave your home, except to get medical care. Do not visit public areas.

Take care of yourself. Get rest and stay hydrated. Take over-the-counter medicines, such as acetaminophen, to help you feel better if necessary.

Stay in touch with your doctor. Call before you get medical care. Be sure to get care if you have trouble breathing, or have any other emergency warning signs, or if you think it is an emergency.

Avoid public transportation, ride-sharing, or taxis.
Separate Yourself From Others
As much as possible, stay in a specific room and away from other people and pets in your home. If possible, you should use a separate bathroom. If you need to be around other people or animals in or outside of the home, wear a mask.
Tell your close contacts that they may have been exposed to COVID-19. An infected person can spread COVID-19 starting 48 hours (or 2 days) before the person has any symptoms or tests positive. By letting your close contacts know they may have been exposed to COVID-19, you are helping to protect everyone.
Wear A Mask Over Your Nose and Mouth
You should wear a mask over your nose and mouth if you must be around other people or animals, including pets (even at home).
You don't need to wear the mask if you are alone. If you can't put on a mask (because of trouble breathing, for example), cover your coughs and sneezes in some other way. Try to stay at least 6 feet away from other people. This will help protect the people around you.
Masks should not be placed on young children under age 2 years, anyone who has trouble breathing, or anyone who is not able to remove the mask without help.
Wash your hands often with soap and water for at least 20 seconds. This is especially important after blowing your nose, coughing, or sneezing; going to the bathroom; and before eating or preparing food.

Use hand sanitizer if soap and water are not available. Use an alcohol-based hand sanitizer with at least 60% alcohol, covering all surfaces of your hands and rubbing them together until they feel dry.

Soap and water are the best option, especially if hands are visibly dirty.

Avoid touching your eyes, nose, and mouth with unwashed hands.
Avoid Sharing Household Items
Do not share dishes, drinking glasses, cups, eating utensils, towels, or bedding with other people in your home.

Wash these items thoroughly after using them with soap and water or put in the dishwasher.
Clean High-Touch Surfaces
Clean and disinfect high-touch surfaces in your "sick room" and bathroom; wear disposable gloves. Let someone else clean and disinfect surfaces in common areas, but you should clean your bedroom and bathroom, if possible.

If a caregiver or other person needs to clean and disinfect a sick person's bedroom or bathroom, they should do so on an as-needed basis. The caregiver/other person should wear a mask and disposable gloves prior to cleaning. They should wait as long as possible after the person who is sick has used the bathroom before coming in to clean and use the bathroom.

Clean and disinfect areas that may have blood, stool, or body fluids on them.

Use household cleaners and disinfectants. Clean the area or item with soap and water or another detergent if it is dirty. Then, use a household disinfectant.

Be sure to follow the instructions on the label to ensure safe and effective use of the product. Many products recommend keeping the surface wet for several minutes to ensure germs are killed. Many also recommend precautions such as wearing gloves and making sure you have good ventilation during use of the product.
What If I'm Positive and Cannot Isolate From My Kids?
This is part of the quarantine protocol. If you have COVID and cannot isolate yourself from the rest of the family, you are considered contagious for 10 days after your symptoms start, OR after a positive test, if you do not have symptoms. Your child must isolate with you, then start their quarantine after day 10, so if you start feeling sick on 12/01 and are diagnosed with COVID, you must isolate through 12/10. Your child's quarantine will start on 12/11 and will end in either 7, 10 or 14 days, depending on which option you choose. If your child tests positive during this time, they can return to school after their 10 days of isolation.
If a Parent or Person in the Home is Sick
If you or another person in your home is ill and being tested for COVID, you can keep your child home from school on quarantine protocol. If the COVID test is negative, the child can return to school. However, if you are being tested as part of your employment and do not have symptoms, your child can be in school while waiting for those test results.
Do Students Need a COVID Test to Return to School?
A COVID test is not required to return to school. However, a negative test can get your student back to school sooner. If your student is sick, they can isolate at home for 10 days and return if they have not had a fever for 24 hours and they feel better. If your student takes a COVID test and it is negative, they can return to school once they have not had a fever for 24 hours and they feel better. If your student is quarantined due to a close contact, they can quarantine for 7 days, if they have a negative COVID test on day 5 or later. This information is included with the paperwork that is sent home with quarantined students or emailed to parents.
Wearing a mask helps protect others in your community. Wear masks in public settings, like on public transportation, at events and gatherings, and anywhere you will be around other people.
Wear masks to help protect yourself from getting or spreading COVID-19

Wear masks with two or more layers to stop the spread of COVID-19

Wear the mask over your nose and mouth and secure it under your chin

Wash your mask regularly
Put masks on someone two years and younger

Put masks on people who have trouble breathing, or people who cannot remove the mask without assistance

Wear masks intended for healthcare workers, for example, N95 respirators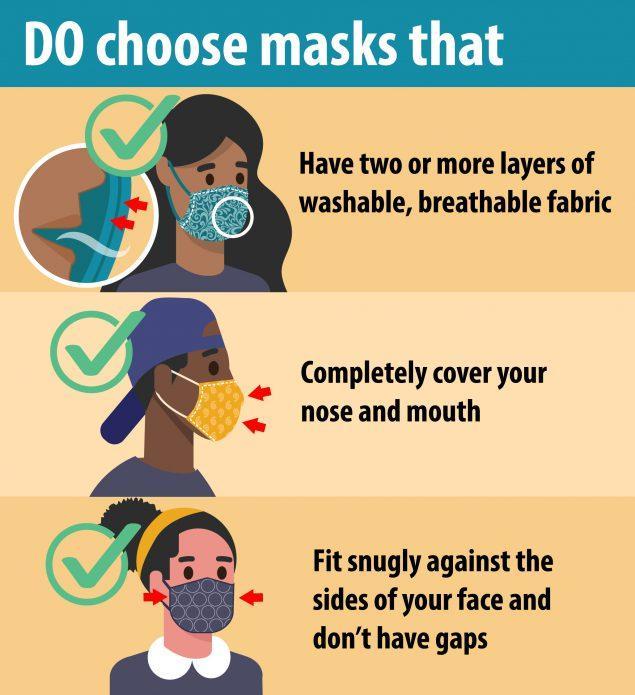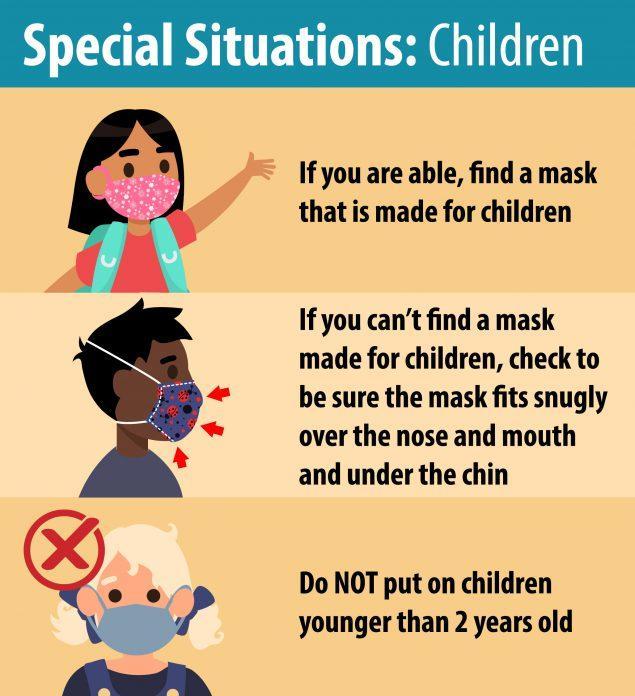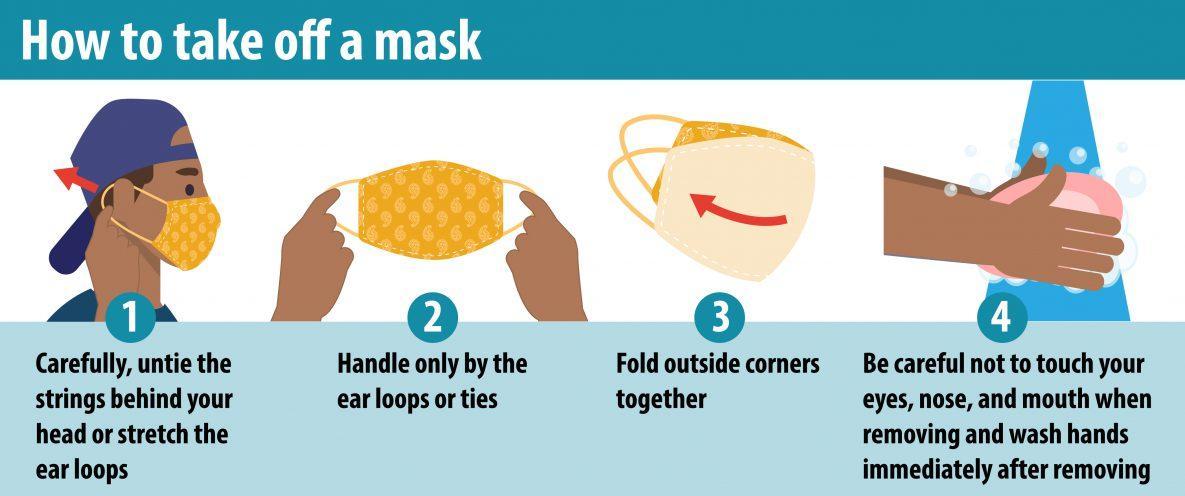 Masks should be washed regularly. Always remove masks correctly and wash your hands after handling or touching a used mask.
Include your mask with your regular laundry

Use regular laundry detergent and the warmest appropriate water setting for the cloth used to make the mask

Use the highest heat setting and leave in the dryer until completely dry
The Ohio Department of Health has opened a call center to answer questions from the public regarding Coronavirus (COVID-19). The call center will be open 7 days a week from 9:00 a.m. - 8:00 p.m. and can be reached at 1-833-4-ASK-ODH (1-833-427-5634).
The Ohio Department of Education has provided valuable information for families concerning the health and well-being of children during the school closure period.
Please click the following web links for Coronavirus (COVID-19) updates and information from local, state, and national health organizations.
U.S. Centers for Disease Control and Prevention